I'm giving a lightning talk about business agility and OKR:s at the Stockholm Scaled Agile Framework Meetup on Thursday October 24. Hope to meet you there!
I have been working with introducing OKR:s and advising in OKR & QBR implementations in several large organisations lately,  and what a powerful tool they can be when used right. During the talk I will share a few insights on the challenges people have had in the process, and how we can help overcome them.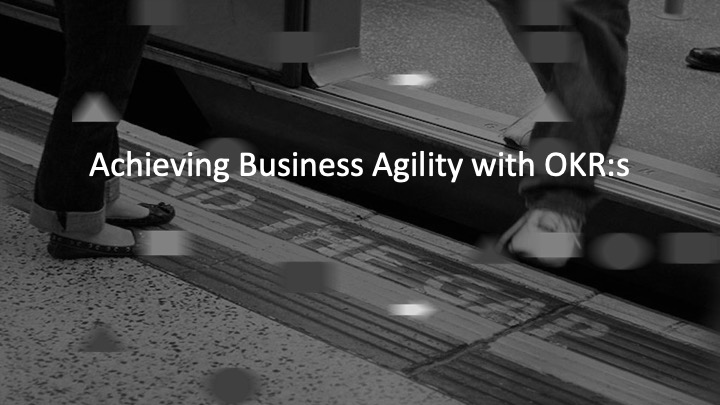 Objectives and Key Results
When properly used, OKR:s can help us achieve a lot of things MBO didn't. But what's the main difference really between traditional management by objectives and OKR:s?
Instead of cascading all over the organisation like the old objectives did OKR:s does imply an hierarchy between different levels. Sure, we like to see that the operative objectives are somehow related to the strategic direction management want to  take with their objectives, but not necessarily all of them.
Instead, we move the authority to were the information is, by asking the organisation what they can and would like to do in order to achieve our goals. Questions are powerful, and a very successful way of reaching alignment and common insights.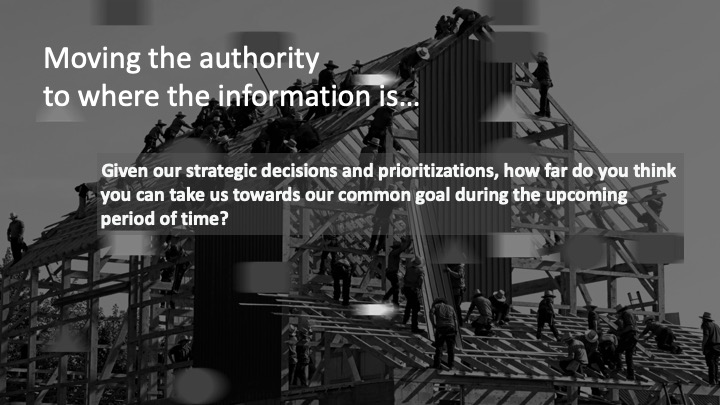 Instead of having confidential goals, the Objectives and Key Results for the whole organisation are available to everyone and fully transparent. We know what goals our neighbour teams or business areas are aiming at, and what we are achieving together constantly.
Instead of reviewing our goals and achievements annually, we set them quarterly and revisit and retrospect our OKR:s regulary on a biweekly or monthly basis. By changing into having shorter learning cycles we can decide to adapt, pivot or change focus earlier and more often. A fair warning here, many organisations fail in introducing an open, fair and regular review process for their OKR:s unfortunately. Making the whole process pretty useless IMHO.
Instead of aiming for a 100% completion rate of our goals, we aim high but we do not expect more than a 60-80% hit rate or completion of our OKR:s. And yes, we are not measured or compensated on our ability to reach our objectives – when we are we aim for the wrong kind of predictability and who would dare to stretch under those circumstances?
Business Agility
Business Agility as a term has become the holy grail for organisations and enterprises lately. And rightly so. Overcoming the gap between all the internal silos has been a long term goal for in the Agile ecosystem, and running an efficient customer centric business is key.
So, Business Agility: The ability of a customer centric organisation as a whole to respond and adapt rapidly to market changes and new customer demands in a productive and efficient manner to maintain and strengthen their competitive advantage.
That's how I would try to summarise Business Agility very shortly. And here's how it's described in SAFe in a new edition to the knowledge base: Business Agility in SAFe 5.0 .
OKR:s and SAFe
There are quite a few of us that have seen the benefits of using OKR:s in large scale Lean and Agile organisations, in combination with SAFe. We easily recognise that the principles that we se implemented in OKR:s are fully shared with all the SAFe principles, not to mention the values transparency and alignment are key to everything.
The current Lean Portfolio Management course finally introduces OKR:s in SAFe, and suggests that organisations would benefit from expressing their strategic themes as OKR:s. I think that's the right way to go, especially since quite a few enterprises are doing that already. If you haven't seen that course yet, you can see see how OKR:s are described in the Strategic Themes article in SAFe 5.0.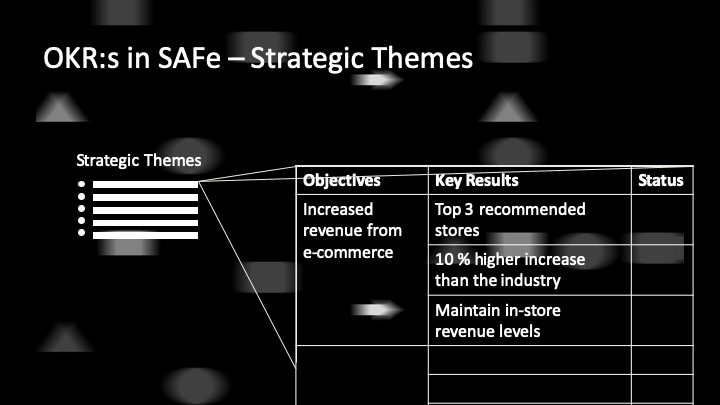 But I think we can use OKR:s in more ways in a SAFe context. How about making the PI Objectives measurable for real, and expressing them as Objectives and Key Results instead of the gut feeling oriented business value from the BO:s? I have seen that becoming a success, even though it can be just a little bit more time consuming. Or how about expressing the objectives we see in Epics and the Feature benefits as OKR:s?
It seems feasible and definitely safe enough to try!